Products » Conservatories & Sunrooms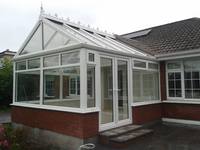 Welcome to the world of Conservatories, where the beauty of the outdoors meets the comfort of your home in our custom designed glass conservatories, pool houses, pool enclosures, garden rooms and traditional skylights.
Alongside our goal that the conservatory look as though it was always part of the original structure or grounds, we believe the beauty and detailing of these extraordinary spaces profoundly influences those who live in them. Mood and behavior cannot help but be influenced by such an intimate connection to the outdoors. We design these spaces as active, not passive, so that the conservatory goes beyond being merely beautiful to being a catalyst for creating a beautiful life. We strive to create architecture that leads to happiness.
The enjoyment of our conservatories is never ending. You and your family and guests will gravitate toward the light at all times of the day and in all seasons. From classic hardwood conservatories to aluminum sunrooms, we bring you the experience that comes from having completed over one thousand projects, designed and built specially for you.
1. What do I need a conservatory for?
The first thing you need to ask yourself is; what needs does building a conservatory fulfil for me? Is it going to be used as an evening room, a reading room, a room for entertaining guests, a room that gives more space to your existing kitchen/dining room or as a room that lets you admire nature at its best.
2. What type of conservatory will meet my needs?
There are various types, styles, and sizes of conservatories; they can be classified into two main groups, glass or solid roof conservatories, sunrooms
Glass conservatories are a great way to extend a room and maintain maximum light penetration to the extended room.
Solid roof conservatories are a great way to maximise the use the conservatory throughout the year as they retain more heat in winter time and protect against overheating during the summer months, making them the most popular type.
Sunrooms are a great way to extend your home and keep the original character of the house throughout the extension, this type is of a solid block full height wall construction and we incorporate all the character of your house into it so it looks as if it was always part of the house.

Based on your requirements and needs one these types will in style and size fit into your vision of what best suits your requirements.
3. What are the next steps?

The next step is simple all you need to do is contact us for a site visit which is free of charge, based on choices from above questions and browsing our portfolio of jobs completed you will already have a good idea of what you desire, it's very important to have a comprehensive site visit carried out as this is critical to ascertain what can be achieved in the design stage because all site characteristics vary, with your desires and our experience in the field a comprehensive solution can be achieved.
4. Why choose a conservatory from us?
By choosing us, you are choosing a quality product with a professional company that guarantees all its work.
5. Do I need Planning Permission?
We can give you comprehensive planning advice during the site visit and will inform you if planning is required.
6. Who carries out your work?
We take great pride in the fact that we carry out all works by our dedicated tradesmen, all works are carried out with strict adherence to all building regulations, standards and codes.
7. What size conservatory should I consider?
This will depend on what uses you have in mind for the conservatory and we will advise you on an appropriate size during the site visit, but you are not limited to any specific size as we tailor build all our conservatories to meet your requirements.
8. What options do I have for the conservatory?
Your options are limited only by your imagination and desires, we have built many conservatories that are contemporary and unique in design and build. We can incorporate chimneys, kitchens, open plan extension, vaulted ceilings, change in floor levels and are limited only by imagination.
9. How long does it take to complete?
In normal circumstances it takes between 6 and 7 weeks to complete but in some cases it can take less depending on the size and design of project.
For solid roof conservatories and sunrooms we use supalite roof systems please browse through available roofing options for whats available.
For Glass roof options we use Synseal Products
GALLERY: