Products » Doors » Palladio Doors Overview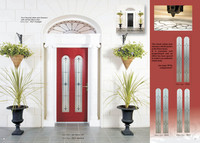 Palladio Doors approach to developing this new door was both radical and innovative. The composition of the door differs from all others in its MONOCOQUE structure. This structure gives it a massive strenght to weight ratio and is protected by European patent, with other patents pending.
Apart from the monocoque design there are a lot of other innovative features to this door. For instance, they have designed and manufactured a new hinge system exclusively for this door, so that it is visually concealed unlike the the more commonly used flag hinge, which can be unsightly. Their glazing systems with beads that look like wood are also very attractive. As is evident from pictures in this site you will see that the wood grain finish is superb, due in no small part to the fact that all tooling is done in-house. In a very unique process we replicate the exact finish of a real oak door, 100% true to the origional.
Another feature of these doors is their excellent U value rating which is a stunning 0.205 as tested by the 'Lambda' testing method.
In addition to all these fine features the glazing is also triple glazedd and edgetech warm edge seals for the lowest U values possible at 0.7
Palladio doors are dedicated to the pursuit of excellence and in production and customer service.